Welcome to the EVOTION Research and Innovation Project.
On this page you will find an overview over the project divided into 4 topics:
The Problem we want to tackle with this research project, which has been funded within the Horizon 2020 Framework;
Our Focus on the areas this project has an impact on;
What we do in order to achieve our goals; and
What we believe our impact is for hearing healthcare and hearing health policy making processes.
You can download our brochure by clicking HERE.
---
The Problem
Disabling hearing loss, according to the World Health Organization, affects 466 million people in the world and is predicted to rise to 900 million by 2050, unless action is taken. It is estimated that age-related and other hearing loss is the 4th most prevalent condition and 3rd leading cause of years lived with disability (YLD) in 2016.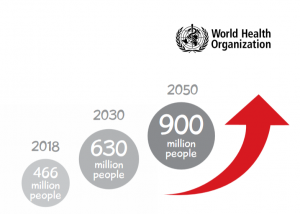 Read More
---
Our Focus
EVOTION is about enabling seamless collection of big data from all actors and related to treatment of hearing loss to inform, support, and develop hearing health care policies. This will be achieved by developing a multi-stakeholder demonstrator platform that combines and analyses heterogeneous big data from clinical repositories and from patients' everyday hearing aid use and clinical treatment. The subsequent big data analytics is expected to produce ecologically valid evidence for the formulation and validation of public health policies.
Read More
---
What we do
EVOTION has successfully initiated the largest ever research study of hearing problems with concurrent collection of dynamic data as part of the standard clinical pathway and with patients.
During its first 18 months period EVOTION has collected requirements, designed the architecture, reviewed security, implemented the platform components according to the architecture specifications and developed a novel specification language for the formulation of public health policy decision models (PHPDMs). The platform components enable the platform to:
Read More
---
Our Impact
The EVOTION platform allows all actors to interact with data based on their specific needs, questions and from their own professional perspective. The EVOTION platform is being developed to support health care professionals and health policy makers in identifying, simulating, prioritizing, and monitoring the effectiveness of current and proposed/potential hearing loss interventions.
Read More